Type of Service
First and foremost, decide what kind of event—and also how many events—you wish to have. Each type will have its own challenges and rewards. For example, you might want to have a meal at one location, and move to another for an ash scattering. If plan on scattering the ashes, you have the option to wait to hold the ash scattering for many months, until everyone is able to assemble at a special location. You may opt for a small event restricted to family members, a larger event for everyone who knew the person who passed, or both.
Memorial Service or Life Celebration
You may choose to have a simple memorial service, where a small number of people gather to say a few words. Or, you might prefer to have a grand celebration, like a party with dancing and activities. This event can be held immediately after the death, or you can wait several weeks, months, or even a year. It can be held anywhere from a private residence to a mountaintop. If you choose, you can make it into a weekend event or a destination location, allowing family more time to grieve and bond over the loss. Consider what is special to the person who died, or to you and your family, when planning this memorial event.
Ash Scattering
Following a cremation, you may wish to hold an ash scattering ceremony. When planning this event you'll want to consider the method of scattering, the location, and who and how many people will scatter the ashes.
Scatterings can take place on land, lake, or sea. You can also opt for a more unique scattering method, such as via hot air balloon, plane, or even a rocket. If desired, you can hire someone to take the ashes to a special, remote location to scatter. Note that some areas have laws regarding ash scattering, so you'll want to keep this in mind when planning. See Cremation Scattering Services in our Local Resources section.
At the ceremony, it is common for one person to physically scatter the ashes, but if you'd like the ashes can also be divided and distributed among family members and friends to scatter together.
A wide variety of vendors offer urns or cremation vessels to scatter ashes from; see Cremation and Burial Products in Local Resources for some lovely options.
Home Funeral
A home funeral is a celebration in the home with the person who passed present. This requires the natural death care process and typically includes hiring a home funeral consultant to aid you in keeping the body at home. Look for Home Funeral Consultants in our Local Resources section.
It is possible to perform natural death care without a consultant, however you will need to plan and prepare for this in advance of a death. In this case, you will definitely need assistance from family and friends. Follow our step-by-step instructions here.
With a home funeral comes the comfort of being in the home, and the time it allows you to say goodbye. As you plan, consider the location of the body in the house, and how people will say their goodbyes. You can lay him or her on a bed, on a couch, or even outdoors in grass or in a garden. Perhaps you'll dress him or her in special clothing, or place personal items with them. Also, if you wish, think about purchasing a beautiful cloth shroud or a simple wooden casket. You may want to use a cardboard container, which is easy to custom decorate. For more options see Cremation and Burial Products in our Local Resources section.
Graveside Service
First, consider where the burial will take place. You might want to bury your loved one on rural, private land; check local laws regarding private burial. Alternatively, most natural burial grounds or green cemeteries allow the family to be involved in the burial process.
For a natural burial, also called green burial, you will need a shroud, a simple casket, or a cardboard container. You'll want to identify which friends and relatives can help conduct the necessary tasks, such as pall bearing, closing or scattering earth over the grave, or reciting a saying. You might want to conduct a full service at the graveside with the help of an officiant, or you might want to have a string of events in different locations; your graveside service may follow a home funeral or an event dinner. There are a variety of ways to incorporate a graveside service into your remembrance event, so feel free to be creative in your planning.
Wake
You may wish to have a wake at the home of a family member or at an outside venue. It can be that simply gathering together for a meal is your way of honoring your loved one. Or, the meal can be part of a series of events. It's completely up to you.
Other Options
There are countless ways to commemorate life and death, and today you can be as creative as your ideas allow. From open-air funeral pyres in Colorado to memorial reefs in costal states, unique options are becoming available. Remember, although legal considerations will limit some choices, it is ultimately your decision how you remember and celebrate the life of your loved one.
---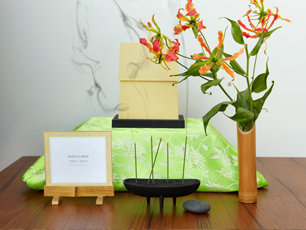 ---